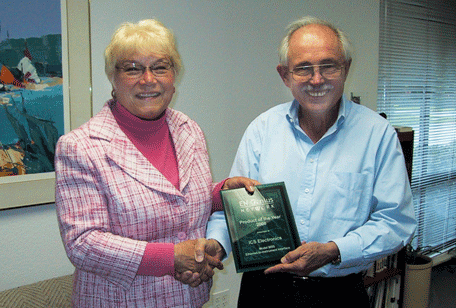 Pat Macsata of En-Genius Network shown here presenting Jerry Mercola with their "Most Practical Piece of Test Equipment Award for 2008". Jerry accepted the award in May of 2009 on behalf of the design team at ICS Electronics. For more information about ICS's 8055 Ethernet to GPIB Interface click here. The Model 8055 has been replaced by the Model 9055 shown here.
EN-Genius Network was a premier source for electronic design engineers working in the fields of power management, audio/video, acquisition, connectivity, networking, wireless applications, dsp, programmable logic, and green engineering. sub-ZONEs covering these specific areas enable the designer to focus directly on products of interest, with timely and insightful reviews. News headlines and a calendar of events keep readers current, knowledgeable and informed, while companion ZONEs providing detailed technical notes and guest columns -- along with the usual trenchant commentary by our editors -- offer a wealth of information in an independent arena free from the limited detail permitted in print publications.

Most Practical Piece of Test Equipment

ICS Electronics Model 8055 Ethernet-to-Instrument Interface GPIB has been around since 1975, and although it's been supplanted in many test racks by the likes of USB and LXI, there are still a lot of GPIB instruments kicking around. This clever product extends the life of legacy equipment, additionally opening doors for true Internet-enabled remote control.
Reprinted courtesy of En-genius Network.
ICS Electronics En-Genius Award - Most practical piece of Test Equipment Award - 8055 Award